Customised drainage solutions from HAURATON
Specially designed drainage with high aesthetics.
Modern architecture makes special demands in many areas - and surface drainage is no exception. As well as functioning reliably over the long term, the systems also have to be flexible and individually adaptable to any construction project. HAURATON goes into the specific requirements of each project and collaborates with the architect as early as the pre-planning phase.

A specialist team is devoted to dealing with customised solutions – from pre-planning to on-time delivery and assistance during installation. A suitable solution is therefore found for each application maximising the functional and design requirements.
References with Customised drainage solutions from HAURATON
Stuttgart, Porsche Museum
Stuttgart, Mercedes Museum
Berlin, O2 Arena
Frankfurt, Schillerplatz
Heilbronn, Experimenta
Frankfurt, Oval
Stuttgart, LBBW-Gebäude
Hagen, Sparkasse
London, St. Giles
Dresden, Wiener Platz

Ahaus, Pedestrian zone

Basel, Novartis
Berlin, Lehrter Train Station

Dresden, Frauenkirche
Frankfurt a. M., Schillerplatz
Ludwigshafen, BASF Customer centre

Weingarten, CHG Meridian
Vienna, Parliament
...

Products in the range of customised drainage solutions
The product range in the field of customised drainage solutions is extremely wide. In the choice of materials (stainless steel, galvanised steel, cor-ten steel, different coatings,...) as well as in the structural shape (length, width, height, radius,...) there is a big diversity:

ECONOMY Channels - solid and stable - down to the last detail
SMALL Channels - slim line, elegant and extremely flexible
Slotted channels asymmetric - visually retentive facada drainage
Slotted channels symmetric -unobtrusive removal of water from surfaces and open spaces
Additional components - individual grating for channels and single point inlets from the standard product range

...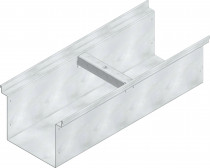 ECONOMY Channel